What a difference a decade of Pop Up has made
Bookings open for June 14-18 free festival
Of everything children, families and schools have missed out on this year, shared live events that make reading fun are among the biggest losses. The pandemic-related literacy attainment gap is evident in Department for Education January 2021 figures (an average loss of two months in reading age with greater disparity in secondary schools and in schools with high levels of free school meals).
To help close the gap and make up for some of those cancelled writer and illustrator visits, book swaps, festivals and library and bookshop events, Pop Up is offering all primary, secondary and special schools plus pupil referral units a free live streamed festival on June 14-18.
Pop Up Festival Presents will be streamed from favourite previous Pop Up Festival venues (Discover Story Centre, the National Maritime Museum, The Story Museum and the October Gallery) as part of the not-for-profit community interest company's 10th birthday celebrations. It is intended to support pupil wellbeing and the recovery curriculum with a showcase of Pop Up's Festival's much loved live events.
As Claire Boulton, Pop Up's Education and Development Director, says:
"Pop Up Festival has been connecting thousands of children and young people with fantastic books and their authors for over a decade. Pop Up Festival Presents will provide even more opportunities for young readers across the UK to celebrate the start of a summer of hopeful recovery and renewal through an exciting series of online author events in June.
"We aim to inspire pupils and teachers to be immersed in a diverse range of high quality, contemporary children's literature by taking part in Pop Up Festival – our flagship participatory programme of author-led classroom workshops in schools and cultural venues – in 2022 and beyond."
125,000 children and young people have attended Pop Up writer and illustrator workshops over the past decade, 20,000 people have attended community events and Pop Up has donated 50,000 books to school libraries and helped 180 young writers and illustrators into print.
The 20 writers and illustrators taking part in Pop Up Festival include the Gruffalo team (Julia Donaldson and Axel Sheffler), Andy Stanton, Emily Gravett and Konnie Huq. The programme is constantly being updated with returning Pop Up Festival performers eager to reconnect with young readers.
Sita Bramachari and Jane Ray, both Pop Up Festival regulars, are running an event for 6 to 9-year-olds on Swallow's Kiss, their new illustrated story about the common threads that connect communities. Swallow's Kiss is part of Pop Up's other big tenth birthday project, the inclusion-led 10 Stories to Make a Difference collection, featuring original stories for ages five to early teens.
Pop Up Festival Presents features more 10 Stories pairings: poet Jay Hulme and illustrator Sahar Haghgoo with Here Be Monsters, a verse parable for 6 to 9-year-olds about the transgender experience (one of several books with LGBTQ-friendly themes), and Jamila Gavin and Jacinta Read with In Her Element for readers aged 10-plus, about a girl with cerebral palsy whose passion for water helps someone else come to terms with disability. The 10 Stories festival events all connect easily to School Diversity Week (June 21-25)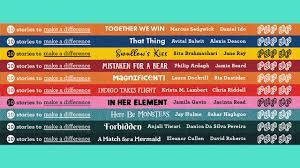 Pop Up Festival Presents events are free but have to be reserved. Sign up for updates and book at https://pop-up.org.uk/our-work/education/pop-up-festival-presents/
Book for the free virtual British Library launch of 10 Stories to Make a Difference (5pm on June 24) https://www.bl.uk/events/10-stories-to-make-a-difference and check out the 10 Stories collection at http://pop-up.org.uk/shop/
Teaching resources on Pop Up's schools website, www.pop-up-hub.com