Posted by

FCBG

Posted in

Uncategorized
Comments Off

on You Can! by Alexandra Strick and Steve Antony
We have a brilliant blog for you today featuring both author and illustrator of You Can! We love reading the perspectives of both Alexandra and Steve, it provides true insight into their talent and love for this book!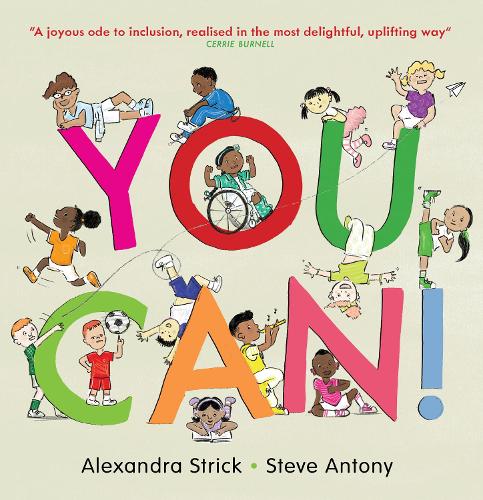 Alexandra Strick:
I'm so excited that You Can has finally hit the shelves this month! It's a very special picture book, and one that's been a long time in the making.
In fact, the idea behind it had been brewing for many, many years.
I'm lucky enough to have worked in children's books for most of my career, as well as having worked directly with children and young people. And I think it was the latter (working on projects to empower young people) that really inspired the book's creation. It caused me to consider how a typical picture book is written and illustrated by adults and then involves adults throughout the process until it finally reaches the hands of the child.
It made me want to create a children's book that started with children. A book to encourage, inspire and reassure young children, by using words and messages that young people themselves had chosen.
Don't get me wrong, I absolutely love most of the children's books I get to read through my work. We're exceedingly lucky to have a wealth of awesomely talented book creators (and likewise people who tirelessly publish, promote, review, share and shout about those books and, crucially, get them into children's hands). But I couldn't help feeling there was also a space for a book that really gave children a voice.
So that's why I started developing You Can. I consulted children and young people over a period of several years and slowly formed a book that involved children right from the start and then continued to consult them throughout the whole process. In fact they have even been involved in promoting the book on social media and creating their own website about it.
To form the text, I asked them how they felt about life, about things like growing up, friendship, dealing with difficult times, knowing their rights. I asked what they wish they'd known when they were a bit younger.
And they told me! They said that they needed to know that it's ok to make mistakes, to be sad or angry, and that this doesn't make you a bad person. They told me how important it is to be listened to, and to feel like you can make a difference. And that people should not tell you who you should be or what you should enjoy doing or what jobs you can do when you grow up. And much, much more.
I collected all these little gems and, with plenty of continued input from children to refine it, I gradually formed the text.
So even in its early stages, You Can was already quite special, coming as it did from 'real' children. Thankfully, the wonderful people at Otter-Barry Books agreed. And together, we approached the extraordinarily talented Steve Antony who was as excited about You Can as we were.
But then began the enormous task of bringing these children's powerful messages and words of wisdom to life…
Steve Antony:
I'm often asked how long it takes to illustrate a book. Some people assume it takes a few days or a week at most. If only this were the case! For me, illustrating a picture book can take anywhere between one month to one year. Sometimes longer. You Can took me the best part of two years to illustrate.
What attracted me to YOU CAN was its empowering text and the fact that it was formed by children's voices. I hadn't seen anything quite like it before, and I jumped at the chance to illustrate it.
At first I wasn't quite sure how to approach the illustrations. They absolutely had to include children, so animal characters were totally out of the question. Picture books ordinarily have one main character, but I knew that wouldn't quite work for You Can because the text came from more than one child's voice. Because picture books normally have 12-14 double-page spreads, I decided to develop 14 characters. At first I thought it would be quite nice for each character to have their own spread.
But there was still something missing. The text was like nothing I'd ever read before and I wanted my illustrative narrative to be like nothing I'd ever seen before. When I proposed to Alex and our publisher Janetta that I show all 14 characters grow from babies to 18 year olds, page by page, even I wondered if it was too ambitious! To make it easier for the reader to track each child's growth I gave each one a favourite colour. For example, the boy playing the flute on the cover is always seen in yellow. Each spread features all 14 characters and Sophie, the book's designer, helped me choose 14 nice, bright and distinguishable colours.
But then came the challenge of visualizing scenes for each statement. In my first draft some of the spreads were left blank, because I simply couldn't think of how to illustrate some of the lines. Lines like 'have the right to be treated fairly' and 'forgive others and yourself' were particularly hard to contextualize. The young contributors helped me with this, as did Alex, Janetta and Sophie.
Many voices went into developing You Can, and as a result the illustrations are very inclusive. I learnt so much from illustrating this book. For example, I didn't know that visually impaired children don't usually have a guide dog until their in the teens. Our young contributors, along with Inclusive MInds, helped answer many of my questions. In fact, it was Inclusive Mind's Inclusion Ambassadors that really helped ensure that my illustrations are as true to life as possible.
Illustrating You Can was such a great experience, and I really hope that children of all ages enjoy watching the lives of these 14 children unfold before their very eyes. 
You Can is published by Otter-Barry Books and is available now!